Office Space for Rent in Buffalo, NY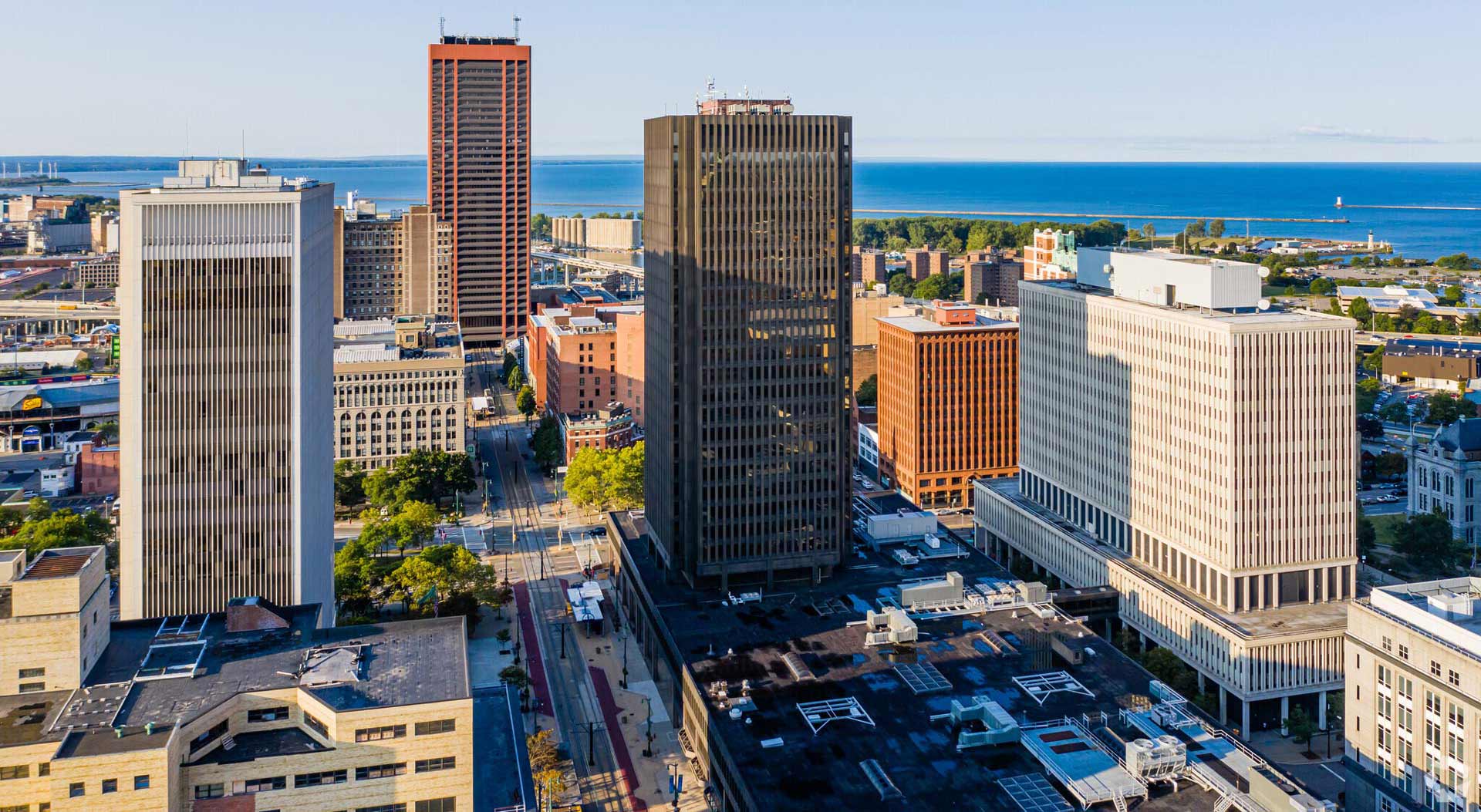 Step into the future of work with Main Place Liberty Group's versatile office spaces for rent across Buffalo, NY. Experience the fusion of historical elegance, modern sophistication, and innovative tech spaces designed to catalyze your business growth.
Our Prestigious Properties: Unleash Your Potential
Main Place Liberty Group presents an array of office spaces for rent in Buffalo, NY, each delivering a unique blend of style, functionality, and strategic location. Fuel your success in our high-energy environments, whether you prefer the traditional allure, modern elegance, or tech-savvy vibe.
Liberty Building
The Pinnacle of Tradition & Ease
Relive history without leaving the comforts of the modern world. The Liberty Building has the charm of a historic 1925 skyscraper with technological upgrades for today's businesses. This downtown gem has office spaces with oak and maple finishes and LED lighting.
Main Place Tower
Modern Elegance & Panoramic Views
Touch the sky in our Main Place Tower, where Class A office spaces meet sweeping vistas of Buffalo, Lake Erie, and beyond. Offering competitive rental rates, our 26 floors of office space adapt to your business needs, with a central location that puts you in the action.
390 Main Street
The Tech Hub of Tomorrow
Revolutionize your workspace at 390 Main Street, Buffalo's tech hub. With large floor plates, high ceilings, and skylights, we are transforming this 1969 urban retail center into 280,000 square feet of state-of-the-art tech office space. Be a part of the future today.
What Sets Main Place Liberty Group Apart?
Versatility: Our diverse range of office spaces caters to traditional, modern, and tech-focused businesses.
Prime Locations: Strategically nestled in Buffalo's downtown, our properties put you within walking distance of city amenities.
Modern Conveniences: Enjoy high-speed elevators, round-the-clock security, and enchanting city views, among other modern amenities.
Flexible Leases: We offer flexible lease options for your unique business needs.
Empower Your Business with Main Place Liberty Group
Discover the transformative power of an office space that resonates with your business ethos. At Main Place Liberty Group, we extend beyond just leasing office space - we deliver an environment for success.
Are You Ready to Transform Your Workspace?
Main Place Liberty Group invites you to redefine your workspace experience. Explore our properties for an office space for rent that's as dynamic and forward-thinking as your business. Get in touch today to schedule your tour.